BIOGRAPHY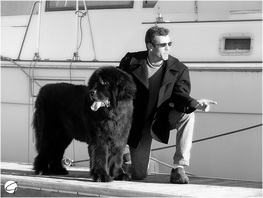 "Adam and Nemo"
My name is Adam Miller and I am the owner and trainer of Big Dog Canine Behavioral Training. I grew up in Lynchburg, VA and attended Virginia Commonwealth University in Richmond, VA. There I received my degree in Marketing and a Minor in Psychology.

My whole life has been filled with animals and I have owned or been around just about every animal under the sun. As far back as I can remember, our family had a multitude of pets – dogs, cats, rabbits, birds, fish, gerbils, hamsters, lizards, rats and the list goes on and on. Still, I always had an affinity for dogs and have always been involved in their training. Whether it was attending training classes, working with our dog at home or just playing with them, I have always been very comfortable around dogs and can still remember every dog we ever owned and going to obedience classes with my father at a young age.

As a child, I dreamed of being an animal trainer for the movie industry but, unfortunately, life got in the way and I went in another direction, but my love and admiration for dogs never wavered. I had a way with animals and a knack at understanding them and communicating with them but I could never define this ability until, eighteen years ago, when I came across positive-based "whispering" techniques. These supplied a name for something that I had done instinctively for years. "Whispering" techniques made perfect sense and came naturally to me. Since then, I have studied and incorporated these methods into my training style until I honed my own skills and am confident that there is no dog or owner that I cannot rehabilitate or train.

I use many techniques in my training, as I have found that you must tailor your techniques to the situation at hand. There is no "one" method that works on all dogs but there are underlying themes that must be constant during training. My training process is based on positive training techniques and proper guidance using my four C's of Leadership – calm, consistent and confident communication.

For 14 years I lived in Charleston, SC and started practicing my methods of training with my 203-pound Newfoundland named Nemo. Once comfortable and confident with my abilities, I began to help my friends and neighbors with their dog's issues. After doing this for a few years, I went "public" and started to take advantage of the "leash-free" times at various beaches in the area and local dog parks. This gave me the opportunity to practice with all types of dogs and many different issues and problems. As my confidence, ability and success grew, I finally decided that I was ready to make the training of dogs and their owners my profession.

Life is too short not to do what you were meant to do, and I was meant to work with owners and their dogs. I have a passion for the business and truly enjoy what I do. It makes me a happier and better person. I look forward to sharing my passions and knowledge with anyone who needs help in becoming a more confident trainer and dog owner.
---


"What we really want to do is what we are really meant to do. When we do what we are meant to do, money comes to us, doors open for us, we feel useful, and the work we do feels like play to us."